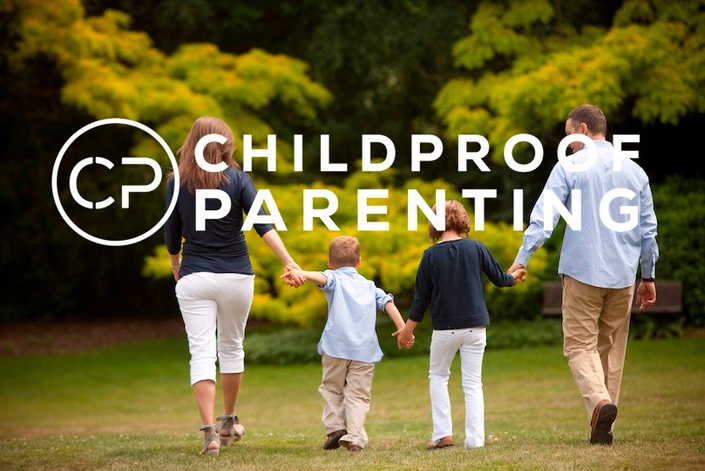 Childproof Parenting: The Toddler/Preschool Years Winter 2018
All the tools and skills needed to raise a happy healthy child and find more joy in parenting!
Watch Promo
THE COURSE BEGINS FEBRUARY 6TH


Get support and learn about what matters most as your child moves through the toddler/preschool years! Childproof Parenting blends Positive Discipline, Gottman principles, and the latest research with interactive support.
You are not alone!
In addition to the professional information and advice presented by Melissa you will be supported by other likeminded parents in the private CPP community group while creating space in your life for intentional parenting. Walk away feeling confident in your parenting, empowered in your decisions, and fulfilled in your relationships and endeavors.

In the Childproof Parenting Course, You Will:
Learn new ways to strengthen relationships with self, child, and partner

Gain insight into how your child learns and what they need at this stage

Learn behavior management strategies that invite cooperation

Aquire new tools to end conflict, avoid power struggles and stop nagging & yelling

Begin to parent without fear, confusion or anxiety

Feel confident about YOUR parenting choices
Your Instructor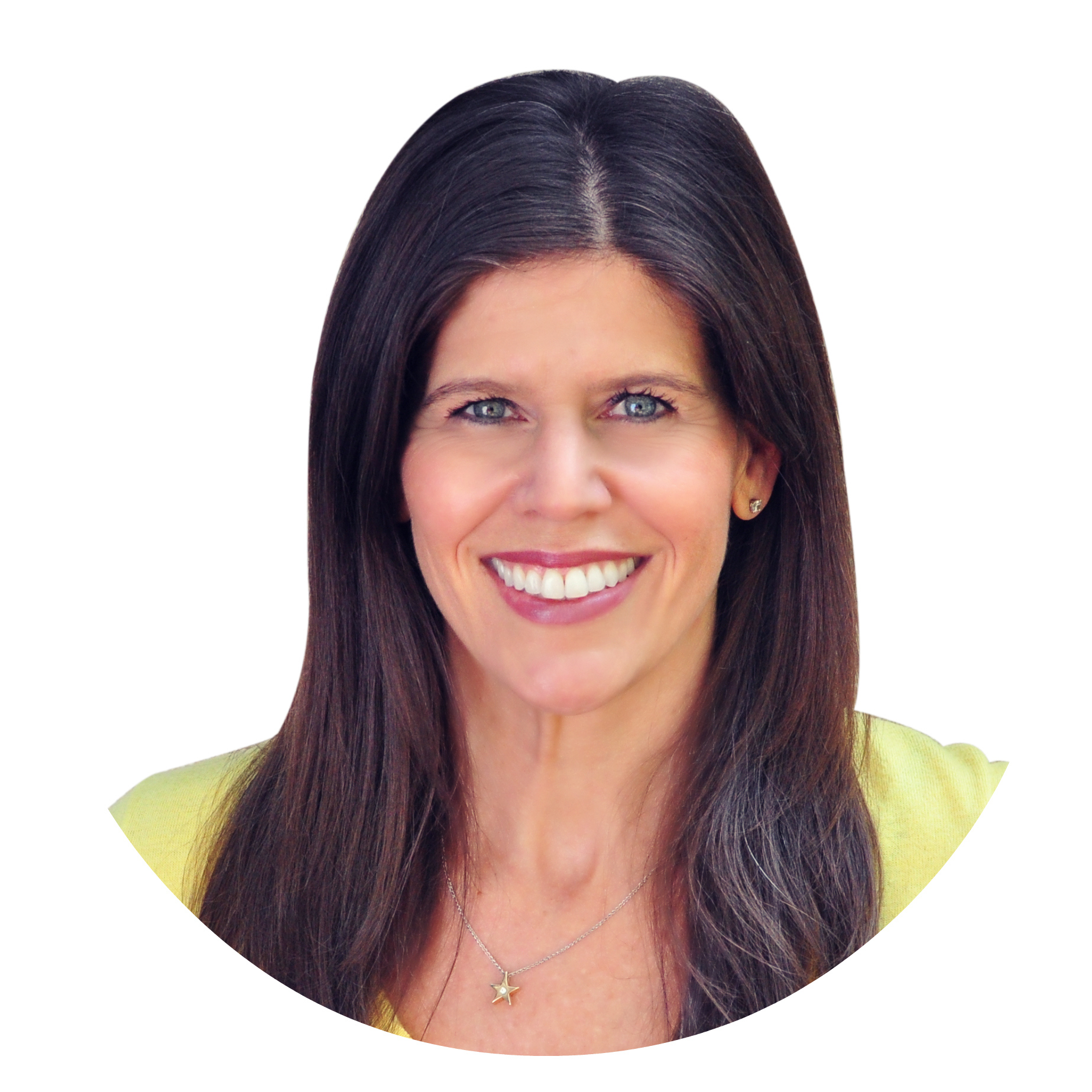 Melissa Benaroya MSW, LICSW, is a licensed therapist with 18 years of experience working with children and families. Melissa has a Masters degree in Social Work, is a Credentialed School Counselor and is trained in Positive Discipline. She is also a Certified Gottman Educator offering the Bringing Baby Home Program for families with young children and workshops on Emotion Coaching and couple relationships.
Melissa practices as a parenting consultant, coach and speaker to groups and individuals by blending her clinical training with her knowledge of child development and discipline. In 2011 she co-authored the book The Childproof Parent. In addition to being the founder of the Childproof Parenting Online Academy, she is the co-founder of Grow Parenting and Mommy Matters Seattle.
Melissa lives in Seattle with her husband and two children and keeps her sanity with an active lifestyle of running, yoga and Pilates!
THIS ENTIRE COURSE IS ALL YOU WILL NEED THROUGHOUT YOUR CHILD'S YOUTH AND BEYOND!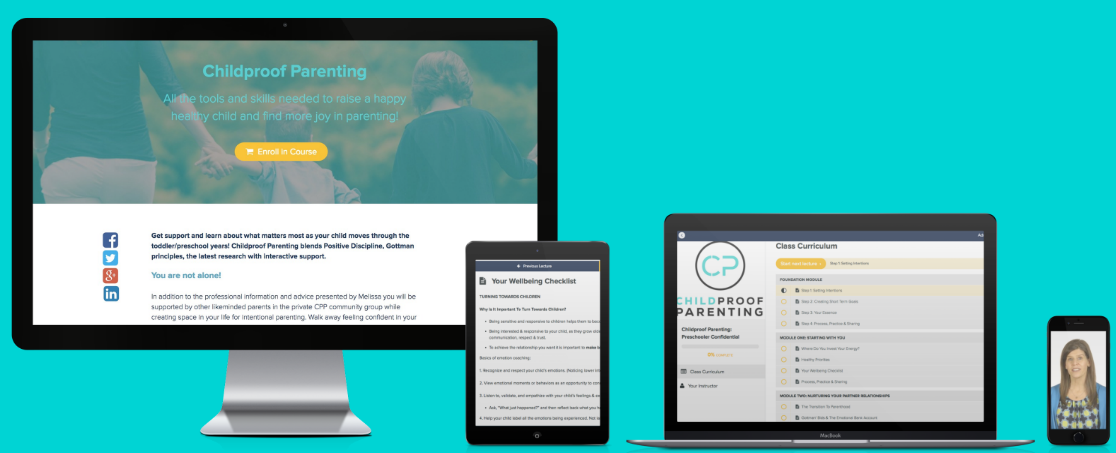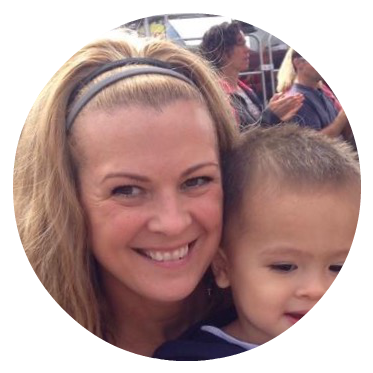 KAREN IS A HAPPIER PERSON, WIFE AND MOTHER
"When I signed up for Melissa's course I was in a bad place. I was not taking care of myself and I needed to learn how to do that better. Her course taught me that in order for me to be my best-happiest self, I need to make myself a priority. One year later I have made myself more of a priority. As a result, I am a happier person, wife, and mother." -Karen, mother of a sweet boy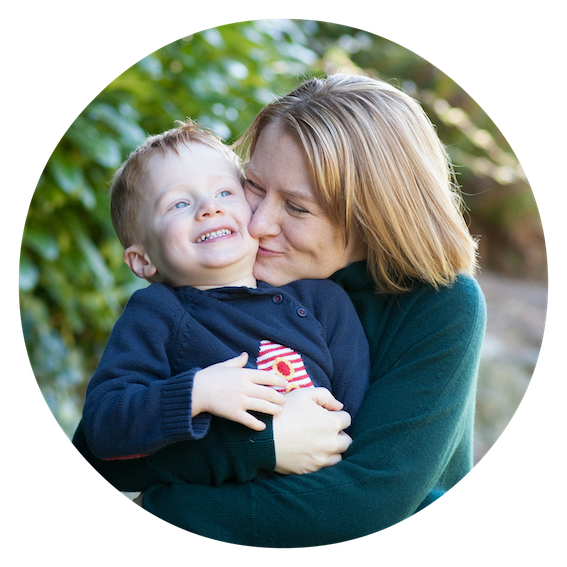 THE SIMPLE STEP BY STEP TECHNIQUES CHANGED MY PARENTING
"Melissa's course made our family a calmer, happier, more fun
place to be. The principles were easy to grasp, but it was the practical, real-world approach that was transformative. I learned simple, step-by-step techniques that changed my parenting, and was delighted at the immediate improvement in my kids' behavior! I felt confident about how to approach any parenting situation – setting boundaries became straightforward, leaving our family with the energy to focus on the fun part of having two energetic children!" -Gillian, mother of 2 busy kiddos
Parenting Expert For The Media...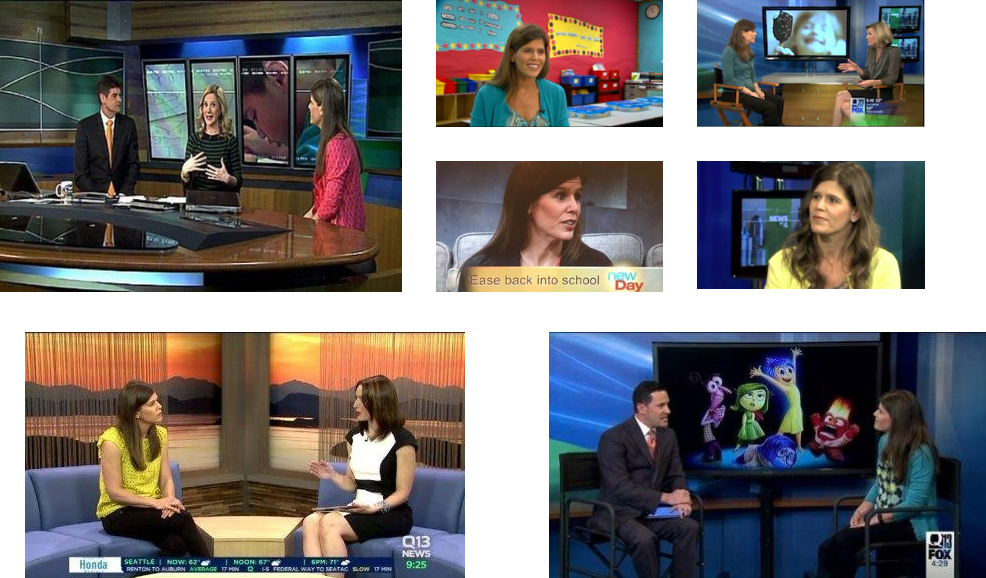 This program is for you if you want to:
* Avoid power struggles and stop nagging
* Learn to parent without fear, confusion or anxiety
* Create a stronger relationship with your child
* Respond calmly with clarity and intention
* Feel fueled & not depleted at the end of each day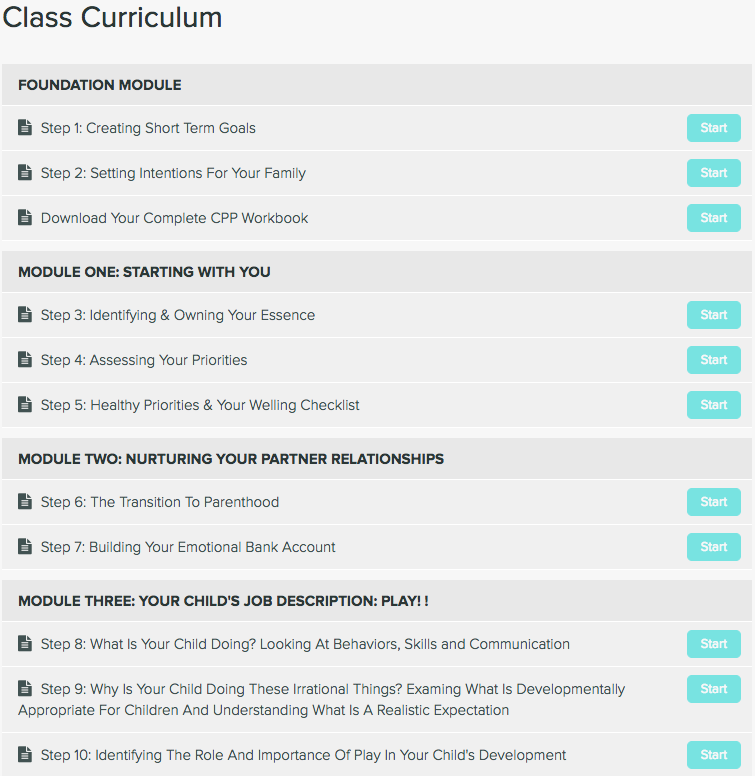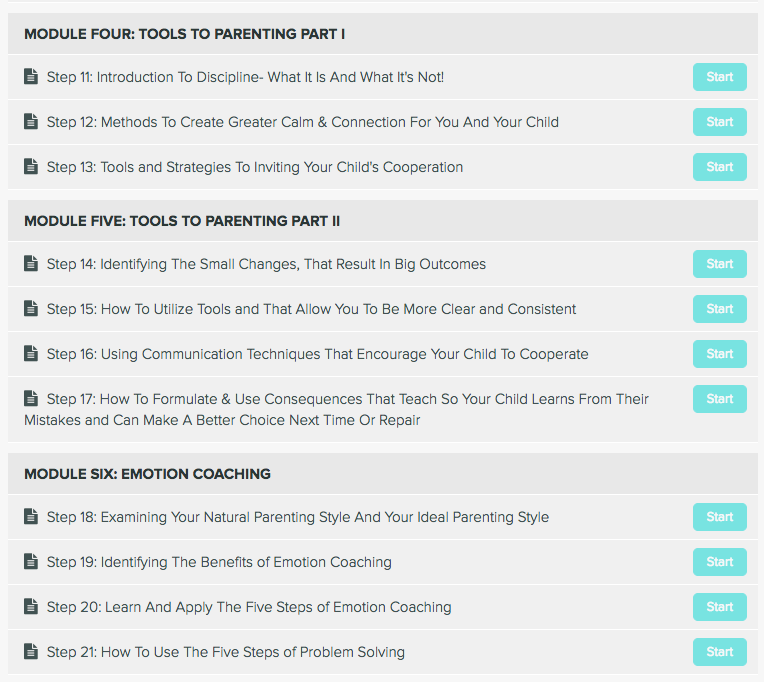 INCLUDES A DOWNLOADABLE WORKBOOK WITH CHECKLISTS, CHEAT SHEETS, AND WORKSHEETS!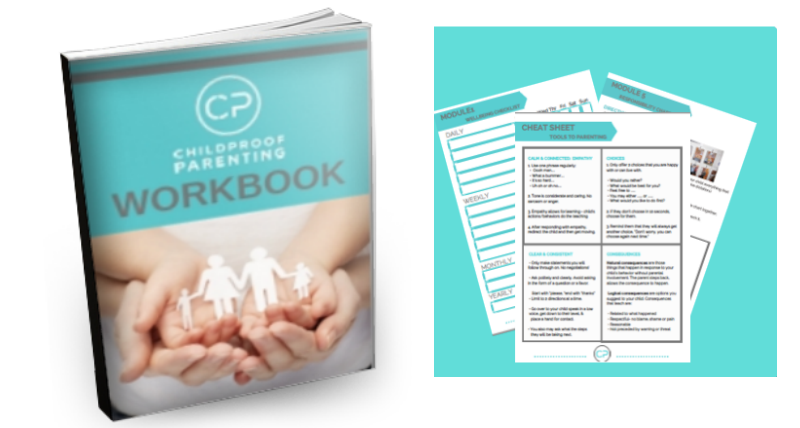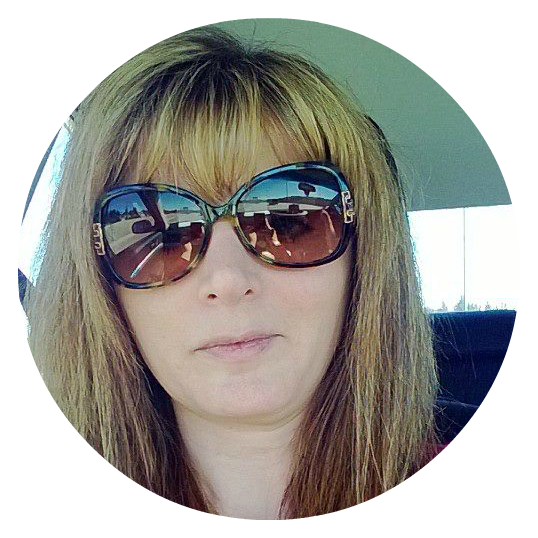 ANAT FEELS MORE EMPATHY, SELF-AWARE & COMPASSION
"I found this course late at night, struggling to juggle between family, 2 girls under 5 and community responsibilities. The course has changed the way I experience myself as a partner, mother and parenting. I gained confidence in my parenting that played a crucial part in raising children with empathy, self awareness and compassion." -Anat, mother of Liel 6, Naomi 22 months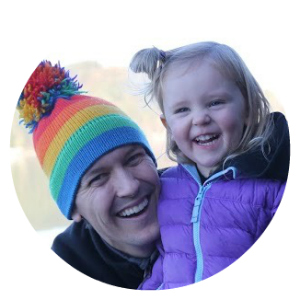 BLAKE FEELS MORE CONFIDENT AND CONNECTED TO HIS DAUGHTER
"After reflecting on the values we would like to nurture in our children during our class, Melissa then asked us to make a list of all the things our children do that drive us crazy. And as we stared at that frightening list, Melissa shared something I will never forget: "In each of these upsetting behaviors is an opportunity to nurture those values." Melissa is uniquely skilled at helping parents find solutions to the many challenges of raising children while always keeping that bigger picture in mind. -Blake, father to Gemma
Frequently Asked Questions
Sounds great! How do I join?
Sign up below to reserve your spot in class. You'll get an email with all the instructions on how to start right away and get a link that will take you right back to your course at any time.
How long does it take to do the course?
It's really up to you! The course is broken down into short video lessons on each topic, and you can watch them over time, or in a binge weekend, depending on what suits you! In an ideal world, you would take 1-2 weeks per module to apply the information and practice your new skills and strategies. You can always go back and re-watch again.
When does the course start and finish?
The course starts now and never ends! The live portion of the course begins on October 31st. You have access the foundation module to get started now. Each week you will get access to a new module and about every 10 days we will have live video coaching calls. The live portion goes for 6 weeks. After that, you decide when you start and when you finish. You will also get access all three bonus webinars.
How long do I have access to the course?
How does lifetime access sound? After enrolling, you have unlimited access to this course for as long as you like - across any and all devices you own.
What if I am unhappy with the course?
I would never want you to be unhappy! If you are unsatisfied with your purchase, contact me in the first 14 days, demonstrate that you have done the first 2 weeks worth of work and I will give you a full refund. *If you sell a similar parenting program or course, you will not be eligible for a refund.
WITH CHILDPROOF PARENTING SKILLS AND KNOWLEDGE YOU WILL BE ABLE TO:


Wake up feeling ready for the day ahead because you are empowered as a parent.

Have a clear vision and plan for creating a better family experience.

Let go of blame and punishment, knowing that mistakes are simply wonderful opportunities for learning.

Understand what makes your child do and say the things they do, so that you can respond with kindness and not react out of frustration or anger.

Develop the skills to parent so your child WANTS to cooperate.

Enjoy spending time together with your child more often than not.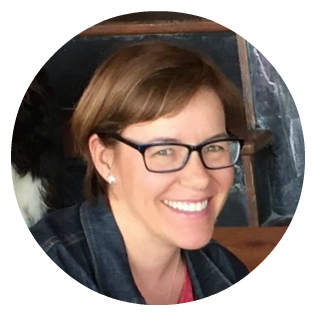 COLETTE IS A CALMER AND HAPPIER PARENT
"This program provided me with effective tools to parent my son. My son responded almost immediately to even small changes in how I approach our interactions. I am a happier and calmer parent as a result and frequently refer back to the program materials when I need a personal "mini-refresher". Melissa has great energy and a wealth of parenting knowledge that I'm truly grateful to have tapped into." -Colette, Mother to toddler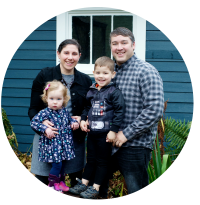 THIS COURSE FACILITATED MEANINGFUL DISCUSSIONS FOR ADRIENNE AND HER HUSBAND
"The first few "groundwork" modules were every bit as valuable to our family as the actual parenting ones. They facilitated many meaningful discussions between my husband and also served as nice reminder that all the work we've done on our own relationship over our 14 years of marriage have lead to us being a strong team.
The length and content of the modules were perfect and well presented.The style made the content easy to understand and the specific examples made it easier to see how the approaches translate to actual situation." -Adrienne, parent of a preschooler & toddler
THE COURSE BEGINS ON FEBRUARY 6TH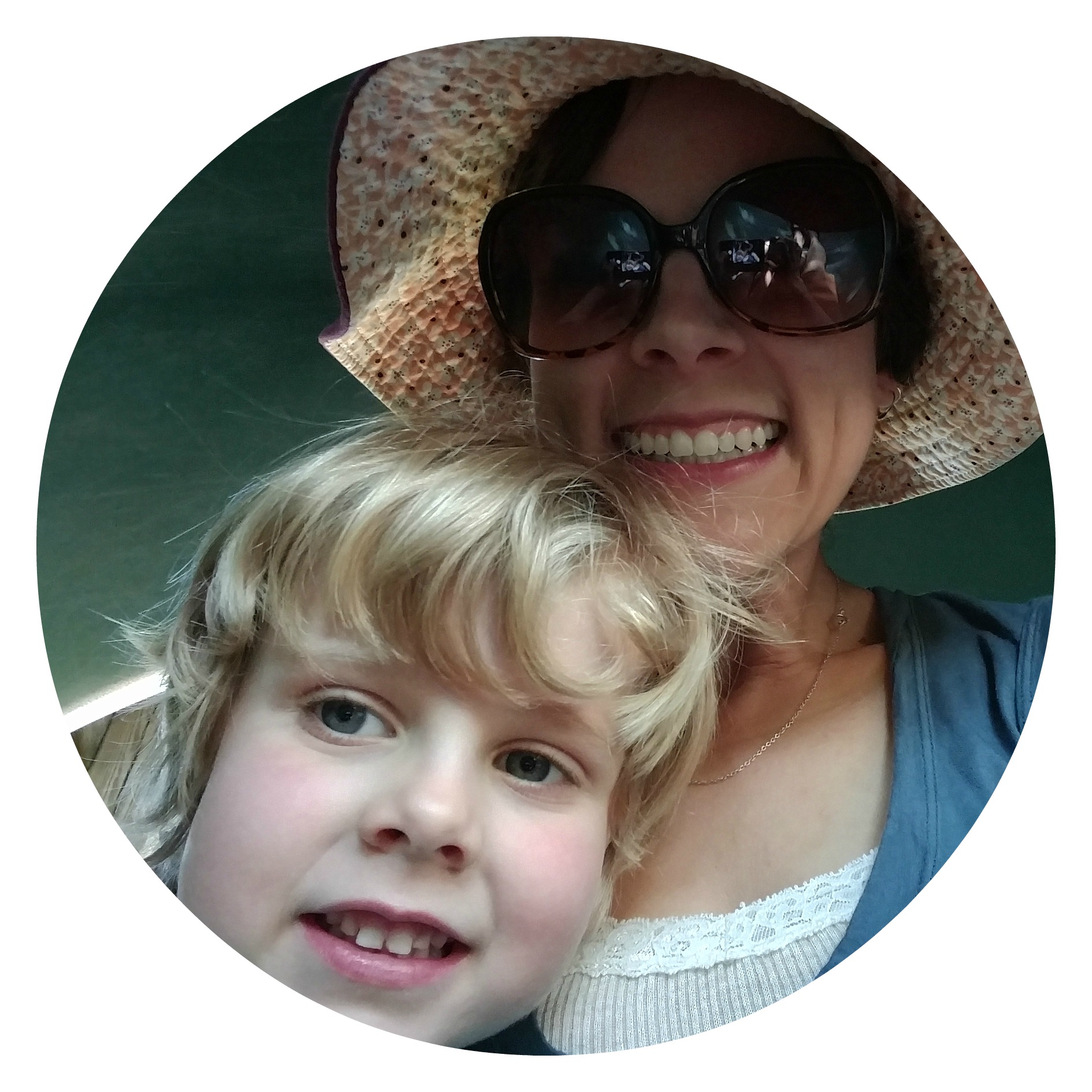 MICHELE FEELS MORE CONFIDENT AND LESS FRUSTRATED
"Melissa's class is a supportive atmosphere where I was able to practice and gain new techniques for parenting and my relationship with my spouse. I feel more confident and less frustrated as a parent now with new tools in my parenting toolbox. It was invaluable class that I've recommended time and time again to friends. -Michele, mother of preschooler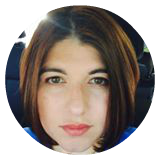 REBECCA LOVED THE TEACHING METHODS USED IN THE COURSE
"Melissa's knowledge, style, and teaching methods were great. I really loved the "fill-in-the-blank" handouts she used. I took lots of notes!" -Rebecca, mother to 3 year old in princess phase